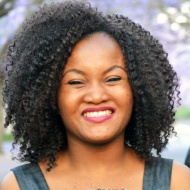 Laetitia
Who are you?
I am an 'I AM Radio' presenter, a wife, a mother and above all a lover of God. I love to laugh and can talk for days. I am a girl born in the DRC but South African bred and that makes me a 'citizen of the world!'
What do you do?
I have a degree in French and Psychology from the University of Pretoria, and I am currently finishing an honours degree in French. I aim to become a translator, do Christian counselling and become a speaker. I also teach French at the University of Pretoria.
Why did you get involved?
I got involved because we need more young people who not only 'talk God' but also 'live God'. We need more examples of cool and funky youths who are true Jesus Freaks! I also love the sound of I am Radio! It is so cool and completely in tune with the youth. Christian hip-hop, rap, RnB and more… you can find it all on I AM Radio. One thing the secular world got right is understanding what the youth want to hear and as a Christian radio station, I AM Radio have mastered this art!